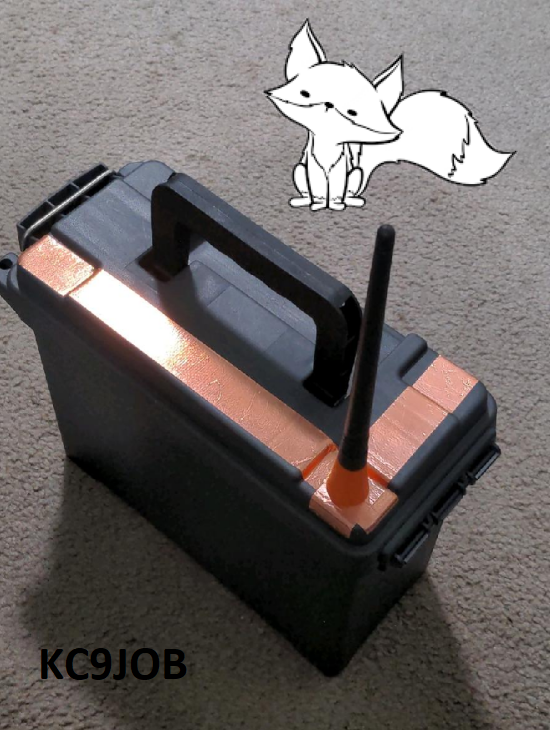 UPDATE!
The team of Gene (WB9ZKY) and Bonnie (WB9ZKX) found both hidden transmitters this month and were the winners in the equipped class based on time using a sophisticated doppler system.
The team of Bill (KD1Z) and Jeff (KD9VBC) also found both hidden transmitters and using only a 3 element tape measure yagi did so in under an hour. They were the winners in the SOP class based on time.
The overall winning team was determined by overall mileage driven and that award went to Bill and Jeff. "Team Sailors" as they call themselves drove almost directly to both foxes accumulating a total mileage of under 9 miles!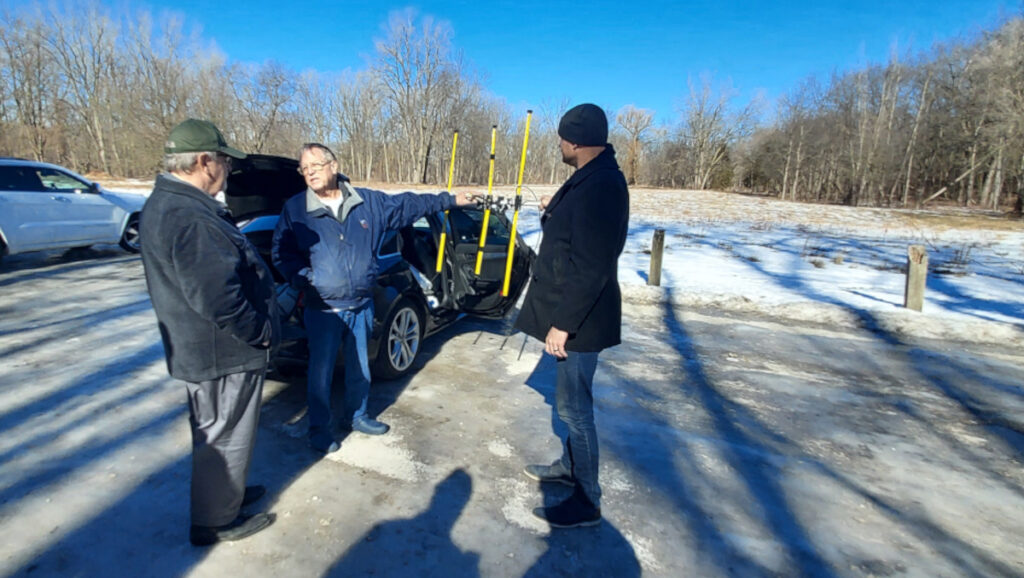 These hunts are hosted nearly every month thanks to Matt, AF9Q, (see schedule). Join in the fun of DF'ing!
+++++++++++++++++++++++++++++++++++++++++++++++++++++++++++
ORIGINAL POST:
This month we'll have TWO HIDDEN TRANSMITTERS ("foxes") to find. One will be high power (~25w) and the other will be on low power (~5w). Finding two hidden transmitters will present more of a challenge to experienced hunters and yet finding only one will still be fun for the "newbies".
The high power transmitter can be heard from the starting point with a typical mobile antenna. The low power fox MIGHT be heard from the starting point, but it will definitely be heard from the high power transmitter location. There is no prescribed order to find them, but you might want to search for the high power fox first. But then, the low power fox might be closer to the Meadows. Who knows? You might have to double back and add mileage if you go to fox #1 first. That's part of the challenge. The low power transmitter will intentionally be harder to find.
Winners will be determined by the number of transmitters found in the two hour hunt window (this hunt will have only two foxes). Ties will be broken by miles driven in your car. Note that the first to find the foxes may not necessarily be the winner. Ties will be broken by mileage. Teams finding both foxes with the lowest travelled mileage will win. Teams finding only one fox will place behind teams finding both and ties will again be broken by miles travelled. The foxes will automatically shut down at exactly 12:00 noon (the DNF time).
The starting point for this hunt will be at the MEADOWS restaurant in Franksville, Wi. Registration begins at the 8:00 am breakfast and will close at 9:30 am. The hunt begins at 10:00 and make sure the organizers have taken your odometer reading in the parking lot.
All teams should bring a radio capable of reaching the 2 meter LRA repeater on 147.27MHz (handhelds will work in the search area unless you get really lost). Starting 1/2 hour before DNF, location hints will be given on the repeater frequency by the event organizers. Please also bring a cell phone and give the number to the organizers.
For this hunt, both foxes will be in automobiles parked somewhere in Kenosha or Racine counties. No need to slosh through the mud of snow. If unmanned, there will be a code number in view that will be used as evidence that you found it.
The first Fox box will ID as #1 and it will be running 25 watts. It will transmit a single tone as a box identifier (a single "DAH") followed by a KR9RK CW ID and then "CAN U FIND ME?" . Set your watches carefully as the GPS time sync'd fox boxes will begin transmitting EXACTLY at 10:00:00 am for 15 seconds.
The low power Fox Box will ID as #3 and it will be running 5 watts. It will transmit an identifying three tones (DAH DAH DAH) followed by a KR9RK CW ID. It will be on the same frequency and will begin transmitting EXACTLY at 10:00:30 for 15 seconds.
This cycle will repeat every minute: EXACTLY on the top of each minute Fox Box #1 will transmit for 15 seconds. 15 seconds of dead air will follow. Then Fox Box #3 will begin 30 seconds after the top of the minute and will continue for 15 seconds. Another dead air period of 15 seconds will take us to the top of the next minute when the cycle will repeat.
It is important to note that both Fox Boxes will be ON THE SAME FREQUENCY but will transmit at different times exactly per the above schedule. The frequency to be used (somewhere on the 2 meter band) will be announced only to the participants before the hunt begins.